31 Aug

Gallery Shows in New York City This Month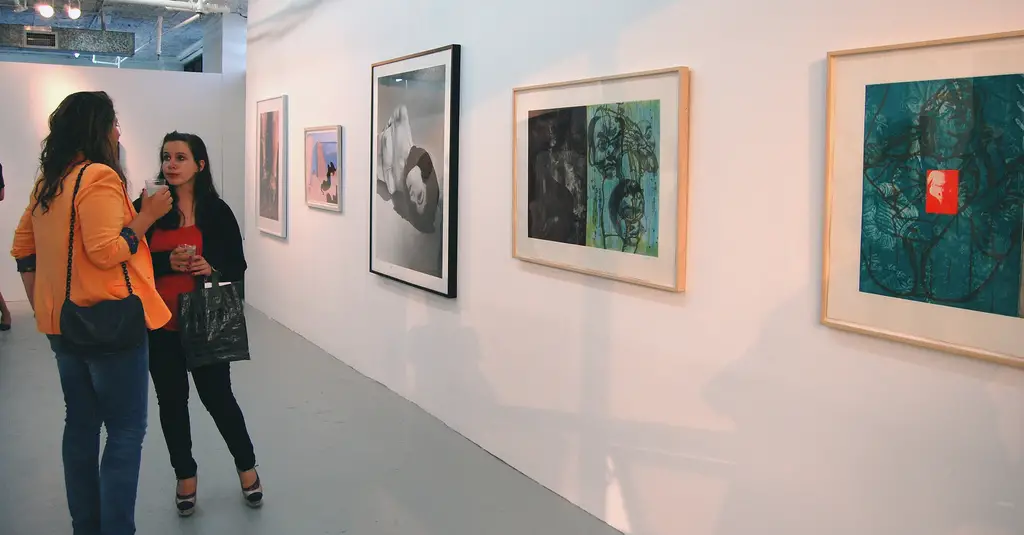 Photo: Andrew Russeth/Flickr 


Many of the world's most acclaimed artists live in New York City, including up-and-coming painters, sculptors, video and performance artists, and photographers. Take advantage of the rich art scene by checking out some gallery shows in New York City this month. City Guide has the best gallery events rounded up here.
Clearing Away the Clouds: How Computer Networks, Servers, and the Internet Work – Triangle Arts Association
August 31, 2019 – Brooklyn
The Tech Learning Collective invites you to join us for Clearing Away the Clouds: How Computer Networks, Servers, and the Internet Work. This two-hour workshop is all about the basics of computer networking. If you've ever been curious about what happens when you're browsing a website, or if you ever wanted to take a look "under the hood" of your Wi-Fi connection, this is the class for you!
Our ability to browse Web sites, send and receive digital messages like emails and text messages, and make phone or video calls depends on the connections our digital devices make with one another. That makes it critical to understand how these connections are made, and where they lead to. Far from being an amorphous "cloud," modern telecommunications networks and services like the Internet are made up of physical devices. Some of these you can see, like your own computer or the router and modem in your house, and others you can't, like distant servers or Layer 2 switches that make up the network infrastructure itself.
In this workshop derived from a portion of the Tech Learning Collective's NET101 course, you'll have the opportunity to actually look—visually and with great detail—… (read more)
Opening Reception for Shared Spaces: An Architectural Exploration – Pearl River Mart
Through August 31, 2019 – New York
Longtime downtown Asian emporium Pearl River Mart is pleased to share our next show at Pearl River Mart Gallery, one of the only galleries in Lower Manhattan dedicated to showing works about Asian American experiences. Architect Philip Poon presents, "Shared Spaces" an invitation to imagine how people of diverse backgrounds might occupy the same physical space, particularly Manhattan's Chinatown. Using large scale models and photographs, he explores architecture's role in shaping worlds in which those with differing viewpoints, values, and experiences might coincide, and the possible conflicts — and harmonies — that come with that.
Join us for the opening reception on Saturday, July 13, from 5 to 7 p.m., in our TriBeCa gallery. SHARED SPACES will be on view from July 13 through Aug. 31. Free and open to the public.
Freedmanart – Madison Avenue Gallery Walk
Through August 31, 2019 – New York
Walls and Occupied Spaces: paintings by artist Kit White, in a timely conversation with artist and writer Jason Stopa.
Tor: What is it Good For? (Absolutely Everything!) – Wonderville
September 01, 2019 – Brooklyn
Wonderville in collaboration with the Tech Learning Collective presents: Tor: What is it Good For? (Absolutely Everything!), a two-hour mini-intensive digital safety workshop focused on the Tor Project. Tor is a free, state-of-the-art, privacy-enhancing Web browser, SOCKS proxy, and anonymizing overlay mixnet. Don't worry if you don't know what these terms mean, that's what the workshop is for!
From illegal online drug stores like Silk Road to DDoS botnet command and control headquarters, media attention has long painted "the Dark Web" as though nothing good can come of it. But learn just a little bit more about how Tor and "hidden services" work and you'll find a treasure trove of valuable possibilities for day-to-day Internet use. The same technology that can hide the location of a drug ring can also serve as a free VPN-like service to protect your privacy while you browse the Internet, make censored websites available again, and even let you host your own Internet services for free, all without opening a single port on your firewall!
In this deep dive workshop on Tor, the Tech Learning Collective's cybersecurity trainers will show you how to make the most of this w… (read more)
Masterpieces of French Faience: Selections from the Sidney R. Knafel Collection – The Frick Collection
Through September 01, 2019 – New York
The exhibition in the Portico Gallery presents a promised gift to the Frick Collection: seventy-five objects from the collection of Sidney R. Knafel — the finest collection of French faience in private hands — to tell the fascinating and complex history of this particular art form.
A feat of great technical achievement, French faience was introduced to Lyon in the second half of the sixteenth century by skilled Italian immigrants — the French word "faience" derives from the northern Italian city of Faenza. Over the next two centuries, production spread throughout the provinces of metropolitan France. The fine decoration of French faience draws inspiration from multiple sources, including Italian maiolica, Asian porcelain, and contemporary engravings. The forms of its platters, bowls, plates, and ewers derive mostly from European ceramics and silver. These influences come together in works of great originality.
Blue Man Group: Ready…Go! – Museum of the City of New York
Through September 02, 2019 – New York
The group has been captivating audiences young and old for years with their curiosity and strangeness. One of the centerpieces of their shows has been a three-part percussive piece made out of PVC tubing. After 27 years, the original instrument was retired from stage life. The pipes will stop over for six weeks at the Museum of the City of New York before traveling to its final resting place.
Visitors learn about the group's New York City origins, and have the opportunity to bang on a tube while taking a look at the world through the eyes of the Blue Man.
Summer of Know: Anna Puigjaner and Jessica Katz – Solomon R. Guggenheim Museum
September 03, 2019 – New York
Artist Anna Puigjaner and urban planner Jessica Katz discuss housing activism in a conversation moderated by Ashley Mendelsohn, an Assistant Curator for Architecture and Digital Initiatives at the Guggenheim Museum.
This program is part of Summer of Know, a conversation series pairing contemporary artists with practitioners and thought leaders at the forefront of today's most urgent social, political,…
[
Application Development Jonathan Cartu